Posted by MH on Aug 24th 2021
Shampoo is one of those essential products everyone has in their home, but we're only just starting to collectively realize how important it is to use shampoo that is formulated with high-quality ingredients.
One way of making sure your personal care products are of suitable quality is to make them yourself, using plant-based ingredients like vegetable glycerin and coco glucoside.
Often referred to as vegan shampoos, these products forgo the use of harmful synthetic chemicals such as sulfates, in favor of gentler ingredients that are sourced directly from nature. What's great is that over time, we have discovered that many all-natural alternatives are actually far superior to synthetics in many ways, not least of which because they are better for animals and the environment as a whole.
If you are wondering how to make your own vegan shampoo at home, we here at MakeYourOwn.buzz have you covered! In this short guide, we will cover what you need to know in terms of the ingredients used, and where to find them.
Is Vegetable Glycerin Safe For Hair?
One of the key ingredients we will be using in this shampoo recipe happens to be vegetable glycerin, which carries natural moisturizing properties for both skin and hair. You might be concerned with what you put in your hair, and rightfully so. We all should be more wary of the ingredients that are found in our everyday personal care products, especially ones that we use on a consistent basis like shampoos and soaps.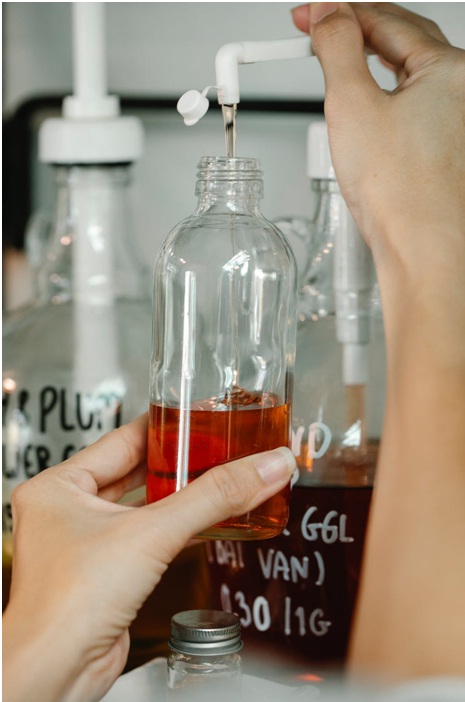 Glycerin is actually 100% natural and comes from vegetable oils. Specifically, certain beneficial plant-based oils are heated under pressure or along with alkali. This has the effect of separating the glycerin from the fatty acids. Only premium oils are used in this process, such as palm oil and coconut oil, which is in itself a commonly used vegan beauty product and household staple these days.
You can be sure that this is a completely safe product that is considered safe for all skin types. Studies show that it is gentle, doesn't cause allergic reactions, and actually has several benefits, including moisturizing and various anti-aging benefits as well. It is used to relieve skin irritation and even has applications outside of the world of personal care.
As with many ingredients found in vegan hair care products, it can be surprising seeing the origins of some of the components and realizing that otherwise ordinary plants, including some fruits and vegetables, actually have incredible health benefits and hair-enhancing properties.
Making an Effective Vegan Shampoo With Natural Ingredients
So what do you need in order to make shampoo using vegan ingredients?
This is a super simple recipe that relies on very basic ingredients, so you can potentially customize it to your liking. The best part about making your own DIY shampoos and other products is that you can use your own colorants and essential oils to change the look and feel of the product, as well as the benefits that it offers.
Vegan Shampoo Recipe:
1 Cup of Water
1 Cup Liquid Castile Soap
1 tbsp. Vegetable Glycerin
2 tsp. Jojoba Oil, Avocado Oil, or Coconut Oil
6 - 8 drops of essential oil (lavender, lemongrass, tea tree, and bergamot are all excellent choices for hair care and each has their own unique benefits.)
If you think you need some fancy chemistry equipment to put all these ingredients together, think again! You can quite literally put all of these in your bottle of choice and shake them up before each use. This simple recipe doesn't rely on any kind of binding ingredients or emulsion, although due to the fact that the oils will naturally separate from the other ingredients, you will always want to shake vigorously before each use.
I think we can all agree that the fewer ingredients, the better. If you have been searching for an easy and affordable way to make your own shampoo at home, this is it. Just keep in mind that you can alter the effects of this product by changing which essential oils you use. Your choice of supporting oils will also influence how the shampoo behaves. Jojoba oil is a solid choice for an all-purpose hydrating shampoo. Other popular options include coconut, avocado, almond, and olive.
Where to Source Your Vegetable Glycerin
No matter what kinds of personal care products you intend on making at home, you do want to make sure you have a strong foundation. That will ensure the end result is to your liking.
The key to an effective shampoo or other kinds of hair care product is in the quality of the ingredients used, of course. Thankfully, you are already right where you need to be if you are trying to source high-quality ingredients.
Here at MakeYourOwn.buzz, we have a long list of natural ingredients available here in our store, including top-quality 100% kosher vegetable glycerin. You will also find an assortment of essential oils, surfactants, oils, colorants, and more. We have everything you need all in one convenient location if you are interested in making high-quality vegan shampoos or other natural or green hair care products. Take a look around our store and shop for just what you need!